BET mailing list
Submit your email

BET on Twitter
Loading feed...
Charity number: 1077161
Company number: 3724349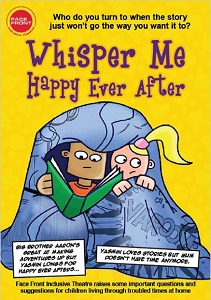 Who do you turn to when the story just won't go the way you want it to?
Big brother Aaron's great at making up adventures but Yasmin longs for happy ever afters like Mum used to tell... but Mum doesn't have time anymore.
The play follows a family experiencing domestic abuse and explores the effects on the mental health of children who witness it. It is both humorous and disturbing.
The audience share lots of practical and emotional thinking about what they could do in a similar situation.
After the theatre piece, pupils interact with the characters and consider what they could have done to get the help they needed and deserved.
Subsequently, pupils can talk to our counsellor and team members to discuss personal issues raised by the play.
Face Front creates theatre that pioneers social change for an inclusive world. We use the transformational power of theatre to improve emotional well-being and address social injustice.
Face Front is led by disabled and non-disabled arts practitioners who make multi-layered theatre that is accessible to all.
"The varied groups of actors have always demonstrated high levels of performing excellence and an ability to engage with young audiences. This testifies to the rigorous training and support which Face Front invests in their actors and the dedication to the aims of inclusive theatre."
Audience review, Haringey Citizenship and Participation Manager