BET mailing list
Submit your email

BET on Twitter
Loading feed...
Charity number: 1077161
Company number: 3724349
Participation policy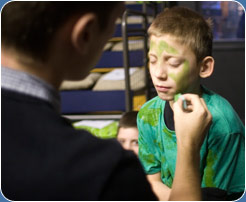 We are committed to ensuring access to the arts for groups of individuals who would not normally be able to access such activities for social, economic or other reasons. The Blue Elephant Theatre Participation and Community Department seeks to engage, respond to, reflect and promote the interests of the local community. The focus of our work is to tackle all forms of social exclusion in our local area by engaging individuals through the arts.
Many of our projects target marginalised individuals or communities, as well as children in care, young carers and young people at the risk of offending.
Our education work:
Addresses key social problems affecting people at risk of or experiencing exclusion (eg: by providing worthwhile creative activities)
Motivates people (eg through providing a platform for achievement and raising aspirations)
Allows participants to explore personal issues through arts based activities
Gives people a sense of pride and achievement in demonstrating newly acquired skills
Blue Elephant Theatre Safeguarding Children and Vulnerable People Policy
Safeguarding Disclosure Report Form
Blue Elephant Theatre Whistleblowing Policy