BET mailing list
Submit your email

BET on Twitter
Loading feed...
Charity number: 1077161
Company number: 3724349
Speak Out!

"It's not just talking at you. It helps you to try and get things off your chest and makes you realise how other people feel when they are angry."
Year 10 student Harris Academy for Girls
Current Opportunities!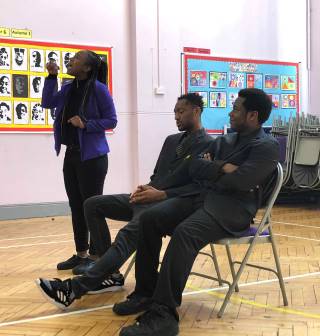 There is no current Speak Out! project but we are hoping to bring it back again in 2021.
What is Speak Out!?
Speak Out! tours and delivers projects in Secondary Schools and Community Centres in Southwark tackling subject matters affecting young people's lives. It is run out of Blue Elephant Theatre working with people 16-30 years old, not in Employment, Education or Training to develop their employability, skills and confidence. We train participants to become actors, workshop facilitators and creatives in a performance context that can give them transferable skills for any job, utilising a method called Forum Theatre.
What is Forum Theatre?
Forum Theatre is a type of theatre created by the innovative and influential practitioner Augusto Boal as part of what he calls his "Theatre of the Oppressed."
Forum Theatre is an interactive performance method that engages an audience to find a positive resolution to a play. The audience are supported by a facilitator who encourages them to intervene in chosen scenes of the play to influence a character's choices and guide them in a new direction. In Forum Theatre there are no right or wrong answers, just the chance for the audience to work constructively to explore various possibilities and find a positive resolve. This engaging and creative process is an exciting way to work with groups to explore behavior and empower them to make change.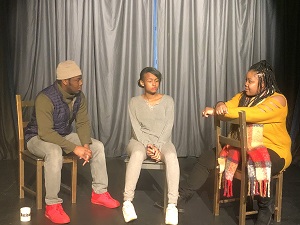 Past productions have focused on young people's experiences and emotions. Speak Out! likes to give young people a platform to explore issues such as, confidence and dealing with anger and the emotions that influence our every day actions and future possibilities.
"The students really engaged with the story and characters and the theme of anger was one that all students could relate to in some way. The use of Forum theatre really helped them see how these situations could be easily changed, I was pleased to see many students take on the role of the characters and be confident enough to change the outcome. You and the actors made the student feel confident enough to take responsibility for the characters actions without making them feel vulnerable. Your drama and facilitating meant that students who are not usually very engaged were playing a very big part in the lesson. They enjoyed having you very much and are now inspired to make their own forum theatre piece!"
Siobhan Walsh Teacher, Harris Academy Bermondsey
Should you wish to have Speak Out! at your school or would like to find out more about the project then please email jo@blueelephanttheatre.co.uk or call 020 7701 0100 to speak to Jo or Jen.