BET mailing list
Submit your email

BET on Twitter
Loading feed...
Charity number: 1077161
Company number: 3724349
Blue Elephant Theatre Update
We are delighted to be getting back to a more 'normal' way of working. Our youth theatres are back holding in person sessions and we are hosting rehearsals and other creative activities. We will hold performances again once ventilation works are carried out in our space.
We're very grateful to have had such interest in the two vacancies we advertised recently. All applicants have now been emailed about the outcome of their application. We are aware, however, that some of our emails aren't received or are sent to spam by email providers like hotmail so you are welcome to call us on 02077010100 if you have not received an email.
Our Writers Group is now on a short break, and will next meet on Tuesday 28th September. You can find out more here.
Our Artist Network has launched, a new resource for opportunities for emerging artists. More information here.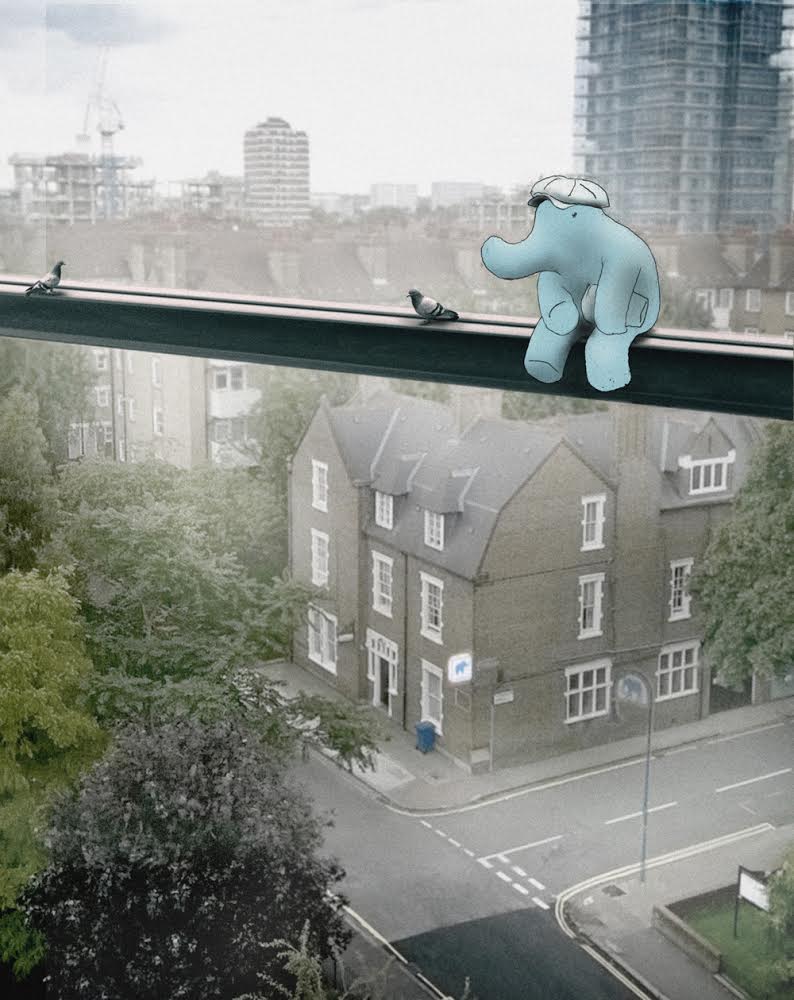 "The wonderful Blue Elephant Theatre"
"Thinking big for a little venue"
"This quirky oasis of a theatre is a charming hidden gem in South London."
"Camberwell's coolest venue"
"Fringe theatre at its finest"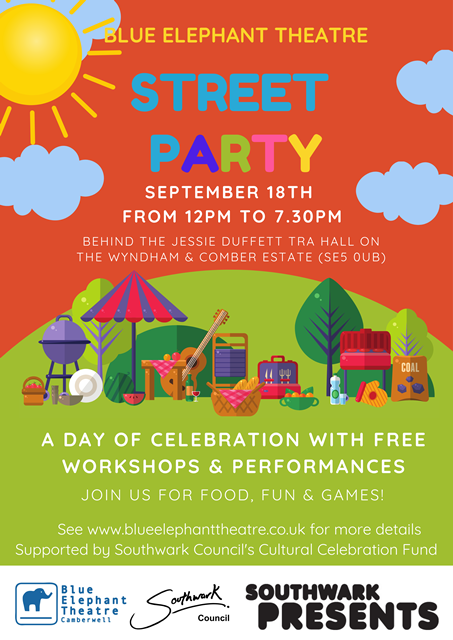 Join us on Saturday September 18th for a street party on the Wyndham Road side of the Jessie Duffett Hall!
Planned with our Youth Board and made possible by a grant from Southwark Council's Cultural Celebrations Fund, the day will feature workshops and performances and be open to all.
It's a day of celebration and a chance to get to know Blue Elephant and its activities better!
Schedule (subject to change):
12pm-6pm: All day games and art activities. Food stalls open. Free cake for early arrivals.
12.15pm – 12.45pm: Drama workshop for 4 – 7 year olds
12:30pm-1:30pm: Art Workshop – Creating Elephant Decorations
1.30pm-2pm: Daisy's Story: It's Good to be Me (performance for children)
2pm – 3.30pm-Art Workshop – Creating a mural
2:15pm-2.45pm: Drama Workshop for Young People
3pm-3.30pm: Daisy's Story: It's Good to be Me (performance for children)
4pm-4:30pm: Live Music
4:45pm-5.15pm: Drama Workshop for All Ages
5.30-6: Salsa workshop
6:15: Live Music
6:30: Comedy
Blue Elephant Theatre will be open for bathroom facilities, just a few minutes walk away.