BET mailing list
Submit your email

BET on Twitter
Loading feed...
Charity number: 1077161
Company number: 3724349
Bespoke projects
The Blue Elephant Theatre often works in partnership, creating projects that meet another organisation's needs. Below is a selection of Bespoke Projects created specifically to meet the requirements given. If you would like to know how Blue Elephant could work with your organisation, please email Jo.
The Blue Elephant runs a monthly Writers Group. We meet at the Blue Elephant at 7pm every second Monday of the month. We meet and read aloud two or three extracts of plays members are working on each month, giving the writer a chance to see their work on its feet and to receive constructive feedback.
Everyone interested in playwriting is welcome to join, whether you aspire to have work you're creating put on professionally or not. We also love to have people come who are interested in acting/critiquing as that's a massive part of the group too.
There's no charge to take part - if you're interested in joining please email Niamh at niamh@blueelephanttheatre.co.uk.
Please note that December's meet up has been postponed until December 16th.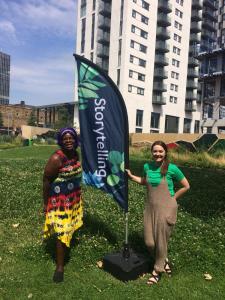 Since 2017, the Blue Elephant has been creating storytelling performances for the newly opened Elephant Park to encourage the local community to feel like the park is their space and open to all.
Stories include Sally the Sassy Seed, The Curious Tale of the Missing Eggs and The Hairy Toe.