BET mailing list
Submit your email

BET on Twitter
Loading feed...
Charity number: 1077161
Company number: 3724349
What's on
The Blue Elephant should be on every theatre goer's map
This is about grown up infants.
The Very Important Child is a piece of physical theatre about the development of the ego, psychological warfare, throwing one's toys out of the pram. Bold and comic, it blends movement, text and music.
The audience sees the complicated politics of two adult egos, two grown-ups who are convinced it is the other person's fault. The show takes you into the developing mind of a human – the fragile baby living from minute to minute, the god-like toddler, the adult who believes herself 'fully grown'.
The Very Important Child is a series of connected dances, it is also just a story about people. There are frenzied folk dances, wordless lyrical duets, comic observations of adult conversation and uplifting music.
The Mostly Everything People was founded in 2012 with the aim of creating high quality movement-based theatre for a wide audience, and has since performed nationally and internationally, and were named Canada Water Culture Space (London) Emerging Artists 2015.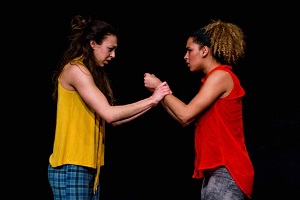 SIGNS is a 30-minute dance piece, fusing contemporary dance with British Sign Language. Performed by two female dancers, this exciting and intricate duet takes inspiration from Colin Thompson's poem If I told you I was deaf would you turn away.
Accompanied by an originally composed music score, it is a highly physical performance that explores the importance of body language in British Sign Language, and the barriers of a deaf person trying to communicate in a hearing world.
SIGNS is presented as a work-in-progress performance and will be followed by a post-show discussion where we welcome the audience's feedback.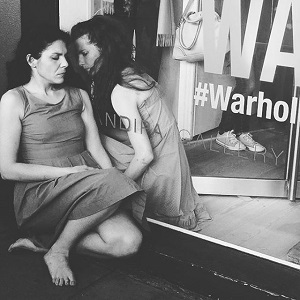 CANDID is an enigmatic 'performance-ritual' about the complexities of female friendships. Two women play a raw and dangerous game of Truth or Dare, setting each other a series of provocative tasks using words, intense physicality and video. Fragmented, episodic, highly sensory and symbolic moments weave a powerful and absurd 'web' made of shared intimacy. In this world anything can be revealed from innocent teasing, to vulnerable confessions, to deeply hurtful insults.
CANDID opens the space for the audience to experience, contemplate and celebrate long-lasting bonds, as a radical alternative to a modern day culture of 'Temp', 'Insta-friends' and 'frenemies' and tendencies of bullying and isolation. It exposes but also tries to subvert the stereotypical female competitiveness. Asking the questions; what does friendship look like in the 21st century? In the current climate of overwhelming online connection, how can true bonds be sustained? And to what extent can mutual candour create connection?