BET mailing list
Submit your email

BET on Twitter
Loading feed...
Charity number: 1077161
Company number: 3724349
What's on
The Blue Elephant should be on every theatre goer's map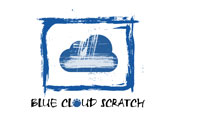 Blue Cloud Scratch is an exciting new dance scratch night, showcasing works in progress from a diverse range of choreographers, and is curated by Blue Elephant Theatre and Cloud Dance Festival. Blue Cloud Scratch aims to encourage and provide emerging dance artists with opportunities to present their works in progress and receive feedback from audiences and peers.
This is the third Blue Cloud Scratch following our other successful nights in March and May.
For more about the Blue Cloud Scratch and Cloud Dance Festival, click here.
Indefinite Article Dance Theatre - Momentum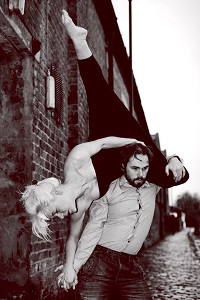 Indefinite Article Dance Theatre a collective of three dance artists - Fern Maia, Belinda Grantham and Craig Bennett - who are based in the North West. They specialise in devising and delivering high quality dance theatre that challenges, entertains and inspires audiences, by offering work that is both engaging and accessible.
Momentum plays with the in-between moments in daily life. Those microseconds where automatic impulse takes over and subsequent shifts occur in the direction of our being. Can we dwell in the precarious space that exists right before we submiss to those driving forces? The work will ultimately aim to question our inherent desire to succumb to what is considered facile and safe. How much of our behaviors is pre determined in our subconscious mind, and can we change the course of our physical and verbal dialogue in those tiny moments before impulse takes over?
Dickson Mbi
Dickson Mbi is a leading hip hop dancer whose own work fuses popping and contemporary dance in a unique way, and he has toured globally as a member of Russell Maliphant Company, also appearing in TV commercials choreographed by Russell Maliphant. He's also part of Just Us Dance Theatre, directed by Joseph Toonga, and is a co-founder of Fiya House which mentors, teaches and supports young hip hop dance artists.
Choreographed & performed by Dickson Mbi.
Lewys Holt - Phrases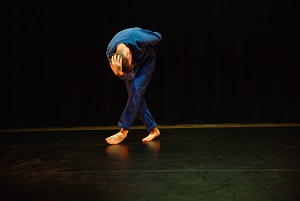 Lewys Holt is an interdisciplinary dance artist based in the UK. His practice, while focusing on dance, spans comedy, visual arts and devised theatre.
He has worked with prominent international artists including Tino Sehgal, Frank Willens, Rosemary Lee and Florence Peake, and Lewys was shortlisted for a Jerwood Choreographic Grant (2013) for his collaborative work with Katherine Hall Subject To Change.
In 2015 he was supported by Dance4 and Yorkshire Dance to successfully secure Arts Council funding to make a solo show titled Of, Or At A Fairly Low Temperature. Lewys is also a founding member of the ACE funded Leicester-based contemporary performance collective Tetrad.
Phrases is an exploration of structured dance improvisations alongside spoken and projected text and projected photographs. Themes present in the work so far include confusion, sublime, dysfunction, non-sequiter, stream-of-consciousness and a resistance to representation and formal order.
Choreographed & performed by Lewys Holt.
Point(e) Taken Dance Theatre - Dual Deviation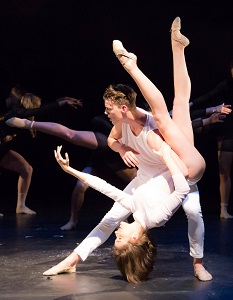 Dual Deviation is a series of vignettes inspired by the music of Ezio Bosso and choreographed by Ian Parsons, exploring how different choices and paths that people take affect their lives.
Ian is a experienced dancer and choreographer, training originally at Canada's National Ballet School. He has danced in Les Miserables directed by Tom Hooper and in the West End revival of Cabaret. He also has held many different teaching posts at schools in the UK, and heads back to Canada to continue teaching there this year.
Choreographed by Ian Parsons
Performed by David Beer, Nami Furukawa, Corinne Swallow, Natasha Richardson, Nikolai Hepp
Alice Weber - Pomodoro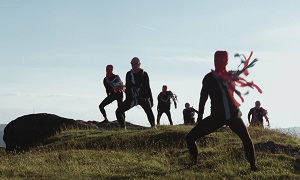 Pomodoro is a work that compares the physical fragility of human life to that of a tomato. The work is self-aware of its own absurdity and looks to explore our human experience with lightheartedness and joy.
Alice Weber received her early dance training in her native Sydney, Australia. She trained full-time at Academy Ballet, Sydney, using intensive classical training to foster a unique contemporary style. Alice's work is inspired by idiosyncracy, psychology, anatomical quirks and temporal dynamics. She works primarily in self-choreography but also teaches in West London.
Choreographed by Alice Weber
Performed by Rachel Elderkin
Autin Dance Theatre - A Positive Life
Following the true stories of five individuals living with HIV, Autin Dance Theatre's latest work in progress is inspired by the 30th anniversary of the discovery of the virus. Through personal stories, reports and commentaries, Autin confronts the prejudices and discrimination faced by seropositive people and the possible path to hope and acceptance
Johnny Autin graduated from the National Conservatoire of Music and Dance (France) in Contemporary Dance and Ballet. Based in the UK for over 9 years and now living in Birmingham, Johnny has worked with several organisations mainly as a performer and physical theatre practitioner. He is the Creative Director of the professional company Autin Dance Theatre and the Artistic Director of Man Made Youth Company, Birmingham's first independent all-male youth company.
Choreographed by Johnny Autin
Performed by Becca Thomas, Jerome Wilks, Katie Albon, Michael Kelland, Jasmine Gardosi (tbc)
Escape explores the emotional journey of a refugee through struggle, despair and the search for freedom. Fusing aerial performance and dance theatre, Escape explores the impact of a new environment on a refugee, who must face social, political and psychological challenges in order to integrate into a new society.
Joanna Puchala has created choreography that combines contemporary dance with aerial techniques using aerial slings. Elaborate wrapping and falling create movements that heighten the intensity of the scenes and capture the full attention of the audience.
LCP returns to the Blue Elephant following the sell-out success of I Am in 2015 ("Offered something extraordinary" ★★★★ Female Arts). LCP Dance Theatre draws awareness to human rights violations through dance and the company's past work has been nominated several times for the Amnesty International Freedom of Expression Award.