BET mailing list
Submit your email

BET on Twitter
Loading feed...
Charity number: 1077161
Company number: 3724349
What's on
The Blue Elephant should be on every theatre goer's map
The curtains fall on another show and a seasoned pantomime dame is alone in his dressing room, unaware he is preparing for his own performance of a lifetime. Ronald Roy Humphrey has returned to the northern seaside town where he grew up for the Christmas season, and finds himself bitterly confronted with why he left all those years before.
As he starts to excavate his past, he steps back into history; bringing to life the ghosts who once paraded and performed along the piers and promenades, removing the layers one by one until he arrives at a tragic truth he had spent his whole life trying to forget.
A lost world of seaside entertainment, old time music hall and pantomime are brought to life in this one-man show where the past and present collide, magical realism meets bleak reality, and however many masks we wear, the truth will always be exposed.
The Dame is a father and daughter collaboration; it's a one man show starring Peter Duncan, written by his daughter Katie Duncan.
Originally inspired by their family history of seaside summer entertainment and pantomime, which Peter grew up surrounded by, it gradually evolved into a fictional, dark drama set amid the nostalgic backdrop of this golden, forgotten era.
Peter Duncan is an actor and presenter, probably best known for presenting Blue Peter in the 1980's.
Ian Talbot directs, and is best known for his role as Artistic Director of The Open Air Theatre, Regents Park for 20 years.
Witness the beginning
Boundaries of contemporary dance are manipulated in this physical and fast-paced double bill by KAMIENSKI., premiering two brand new works.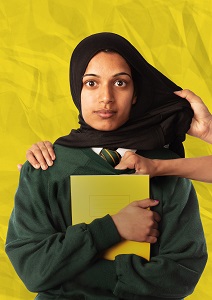 Why should I continue to be tolerant? When the world has been so intolerant of me.
A new documentary play by LUNG (E15, The 56 and Chilcot), Trojan Horse follows the real life stories of Muslim teachers and governors who were accused of plotting extremism in Birmingham schools.
Founded in Barnsley in 2012, LUNG are a verbatim / documentary theatre company who make work with communities, for communities and about communities. LUNG create work that shines a light on political, social and economic issues in modern Britain using people's actual words to tell their stories. The company is led by Matt Woodhead (winner of Director's Guild Best Newcomer 2015) and Helen Monks (Upstart Crow, Raised By Wolves). LUNG's work is published by Oberon Books. Previous shows include: The 56, E15, Chilcot.