BET mailing list
Submit your email

BET on Twitter
Loading feed...
Charity number: 1077161
Company number: 3724349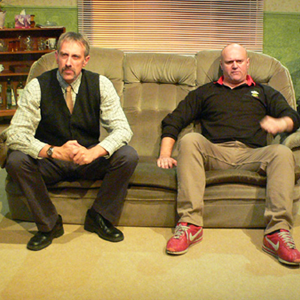 Barry is unemployed & angry at the goings-on at the Neighbourhood Watch. This time he thinks he has the answer. Barry has decided to set up his own state. In a pathetic attempt at living-room nation-building, Barry enlists the help of his best friend Mickey and his nephew Pecks, who is brought in to oversee matters of national security. With no idea what they're doing, and no future thought beyond the opening ceremony, this three-man attempt at democracy results in flags being made, anthems being sung and life-long friendships being tested…
"We - Michael Jeremy Davis and Barry NoMiddleName Parfitt - I'm not going to tell you what will happen. But what I will say is this: I've hired a heavy"
Press

"Well-crafted study in male incompetence" The Stage