BET mailing list
Submit your email

BET on Twitter
Loading feed...
Charity number: 1077161
Company number: 3724349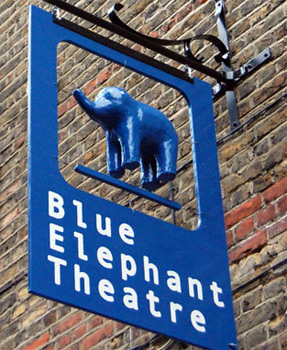 Blue Elephant Theatre seeks new trustees to join our Board!
Registered charity Blue Elephant Theatre (BET) is a vibrant 50-seat theatre in Camberwell, which aims to offer a wide range of exciting creative opportunities, especially to those who may not otherwise access them. It seeks to nurture new and emerging artists across the performing arts and to provide free participation opportunities for our local communities. After a period of uncertainty, BET became a National Portfolio Organisation in April 2018, meaning that it is now regularly supported by Arts Council England and making it an exciting time to join the theatre. It remains, nonetheless, a small organisation with only two full-time members of staff.
Blue Elephant Theatre is based on the Wyndham & Comber Estate off Camberwell Road in SE5. Our audiences and artists come from all over the world although generally artists are UK-based and we particularly focus on reaching Southwark-based artists. We work with approximately 1500-2000 local people each year, largely through our flagship primary schools programme Creative Minds and our Young People's Theatre which is funded by BBC Children in Need. Our local area is diverse and we are keen to recruit trustees who are representative of the area and/or who are closely tied to Southwark. Our Board of Trustees is predominantly male so we are hoping to recruit more Trustees who identify as female or non-binary at this time.
Joining the Board of Trustees is a voluntary role with no payment although out of pocket expenses may be claimed. Trustees have a legal responsibility for the charity's management and administration although on a day-to-day basis the running and management of the Blue Elephant is devolved to the senior management.
Joining the Board of the Blue Elephant will involve duties such as:
• Supporting BET to achieve the goals set out in its Business Plan and Equality Action Plan
• Leading and supporting particular projects or subcommittees around particular needs
• Offering support and advice to staff, particularly senior management and particularly around the Trustee's area (s) of special knowledge
• Attending a range of BET events and work to keep in touch with the organisation and its work to ensure it is carrying out its mission statement
• Being a 'critical friend' to the organisation and staff
• Being an Ambassador for BET
• Supporting BET in its fundraising and audience development efforts
The Time Commitment is expected to be:
• Attending Trustee meetings approximately every six weeks and sending apologies if unable to attend
• Reading and commenting on documents sent out (approximately two hours a month)
• Attending a range of Blue Elephant events throughout the year to keep up to date with its work; trustees would normally be expected to attend at least three professional shows and three participation showcases/workshops a year
• Take on additional responsibilities on an ad-hoc basis when able to do so, eg chair a subcommittee, take responsibility for the Youth Board
We are seeking to diversify the skills and experiences on our Board of Trustees and so are particularly looking to recruit:
• Those with legal expertise
• Parents
• Surveyors/Construction workers
• Artists within the performing arts
• Those with knowledge/expertise around Disability Awareness and improving accessibility
Blue Elephant Theatre welcomes applications from all sections of the community. This is generally regardless of race, colour, ethnic or national origins, marital status, sex, sexual orientation, disability or religious beliefs but as explained above, we are looking to address a gender imbalance on our Board at this time.
If you are interested in becoming a trustee of Blue Elephant Theatre, please send a letter explaining your interest and a copy of your CV to recruitment@blueelephanttheatre.co.uk, addressed to Mr Chris Lawrence, Chair of Trustees. Please also complete and send a monitoring form which can be downloaded here