BET mailing list
Submit your email

BET on Twitter
Loading feed...
Charity number: 1077161
Company number: 3724349
A showcase of excerpts and short works-in-progress of new material from London's most exciting artists across the arts. Puppetry, physical theatre, performance art... A Blue Elephant season in one evening!
The Thinker
The story of how the wounded ego must hide everything we believe that is unacceptable about ourselves. To fulfil this task the ego builds a mask to prove to others that we don't have so many defects. The play is depicted very creatively mixing the use of masks, shadow and rod puppets, object animation, physical theatre and art installation to create a magical and unique atmosphere.
Outside Puppets is an exciting new puppet company that produces high quality contemporary theatre based puppetry shows.
What You Risk
London 1936. Tensions are running high. Europe is inching closer to war and the home front is fraught. In East London pressure mounts as Oswald Mosley prepares his Fascist 'Blackshirts' to march on the immigrant population and show them they are not welcome. On October 4th, 250,000 people come together to defend the East End.
Using verbatim and historical accounts, Scrawny Cat Theatre Company brings to life the story behind the Battle of Cable Street. The lives of three women, from very different walks of life, become intertwined as the dramatic events of that day unfold, with unforgettable consequences.
Chips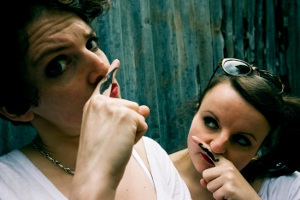 Chips delves into the friendship of two young women who live for booze and sequined pants. Through witty observations and discerning movement, Chips exposes the less attractive side of Saturday's nightlife. Through wit, backchat and some drunken dancing, the Mustdashios draw on their cheeky northern unabashedness to take you on a journey in which they laugh, dance and possibly cry their way through an intoxicated friendship.
Machines for Living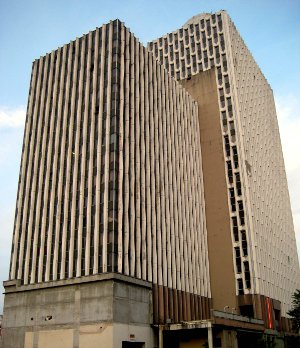 There is functional and efficient performance, he claims, between artist and the hi-tech faith.
But this is Architecture.
Machines For Living is –
he wishes his buildings to try to explain.
'Let Slip' are a Lecoq-trained duo.
Machines for living have been given a full production at the Blue Elephant Theatre from Tuesday 22 of May to Saturday 16th of June 2012.
Tonight, with COD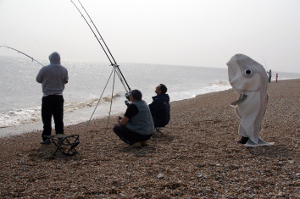 A lady emerges from the shadow of the street. Inexplicably, COD stumbles upon a night of extravaganza in a desolate nightclub.
A change has been forced upon COD's body due to unfortunate circumstances. What is he going to do? How is he going to deal with it? Can the lady lead him to where he wants to be?
It's all confusing time for a cod like him especially with an unfamiliar emotion beginning to sprout within. Should he choose 'I' or should he choose 'Ai'*?
(* Ai - "love" in Japanese)