BET mailing list
Submit your email

BET on Twitter
Loading feed...
Charity number: 1077161
Company number: 3724349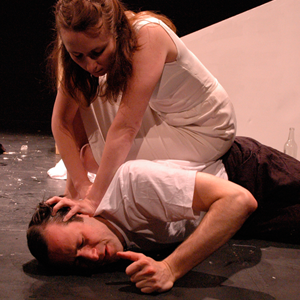 ACTING LIKE MAD is a young, London-based theatre company, which seeks to challenge theatrical form and content. The themes present in their productions aim to explore dramatic writing and test their audiences' perceptions of theatre. They aim to seek new ways of channelling the skill of acting.
Toy Boy
In Toy Boy we enter a world of cynics who use and abuse; and those who obey. Can real love still grow in such a dog-eat-dog world?
Living With…
Living With… tells the story of a man forced to move into a new flat with three hedonistic beings who torture him and each other. Will he be able to overcome his demons and learn to live with them, or will they beat the life out of him?
Press

'In a society where illusions often replace the essence of the human being, Toy Boy and Living With… are a challenge – they are down to earth, nitty gritty reality.' www.dulwichonview.org.uk