BET mailing list
Submit your email

BET on Twitter
Loading feed...
Charity number: 1077161
Company number: 3724349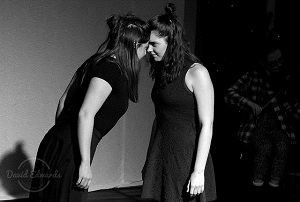 Speed dating
noun
an organised social activity in which people
seeking romantic relationships have a series of
short conversations with potential partners in
order to determine whether there is mutual
interest.
SpeedDating explores the concept of organised social activity and interaction between people in a series of short conversations. Informed by social observation this live composition work incorporates movement and sound, exposing the choreographer's choice in real-time.
Choreographer Shelley Owen is a dance artist who has predominantly worked in The Netherlands. Researching instant composition and task-based choreography, Shelley explores performer choice and works with original sound scores, often performed live. Recently completed projects include site-specific dance/sound work Hare Hill Project: Resolution supported by The National Trust (Cheshire UK) and Some Kind of Hell, by body painting artist Vilija Vitkute (Amsterdam NL)