BET mailing list
Submit your email

BET on Twitter
Loading feed...
Charity number: 1077161
Company number: 3724349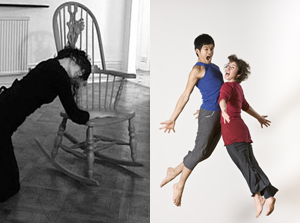 Jane Spencer – Pseudological Fantastica
by Sarah Turner
Choreographer: Maria Korsnes
Performer: Rebecca Evans
This body of work is an attempt to isolate a moment of transcendence: that fleeting moment in time at which limitation is exceeded, and instinct becomes heroic impulse.
The process of adaptation; fitting in to different conditions or developing physical and behavioural characteristics in order to survive, does over time become a repeat pattern or a constant that becomes established. If this repeat pattern or constant is exhausted, an opening for transcendence can take place.
A moment of genuine transcendence can be rare and difficult to identify, quantify, and qualify. This body of work is a way of attempting to embody this intangible fleeting moment into an appropriate form.
Oh Baby
Choreographer: Hagit Yakira
Dancers: Takeshi Matsumoto & Hagit Yakira
A duet discussing the relationship between a man and a woman who are totally manipulated and influenced by love songs, love movies, love letters and love images in art…
(photo by Julia Burstein)
In-tubed
by Etta Ermini Dance Theatre
Choreographer: Etta Ermini
Performers: Chelsea Greene, Durassie Kiangangu, Ziggy Lowe-Vidal & Elena Molinaro
Stuck together in a tunnel, four very different people decide to open up to each other under the pretence of spatial intimacy to reveal the abyss of their emotions…
Press

"For dance audiences it [the Blue Elephant] can be an intense experience - especially if you're used to studying abstract geometry from the heights of the upper circle. These are real, powerful, bodies, right in front of you, complete with flesh, discernible faces and flying beads of sweat."