BET mailing list
Submit your email

BET on Twitter
Loading feed...
Charity number: 1077161
Company number: 3724349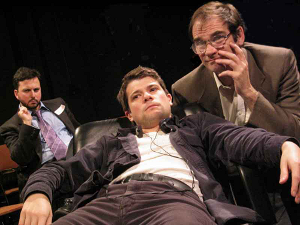 First there was reality TV. Now there's reality theatre. The question is, what is reality? When your appointment comes through for group therapy, you're bound to feel a bit awkward at first. But at the friendly Acorn Therapy Group you'll meet Doctor Ralf & a whole host of fascinating characters. However, this proves to be no ordinary group therapy as events reach a nail-biting climax. But Doctor Ralf has got the situation well in hand … or has he?
Press

"A brisk, loud and lively production, peppered with amusing gobbets of psychobabble"