BET mailing list
Submit your email

BET on Twitter
Loading feed...
Charity number: 1077161
Company number: 3724349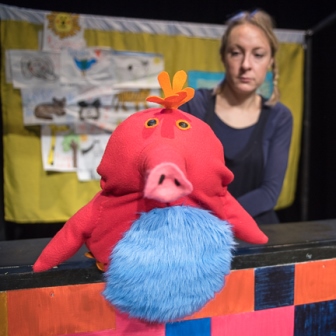 "Whilst browsing on the Internet, I found a penguinpig. A creature you could not forget, with a nose that's just so big…""
Phoebe reads about an exciting creature called a Penguinpig on the Internet. Filled with delight and intrigue, she sets off on an adventure to find a Penguinpig of her very own. Carefully, she follows the instructions from the website all the way to the zoo – but what will she find inside?
A fun-filled show about the Internet for 3-8 year olds and their grown ups, based on the best-selling picture book by Lincolnshire author Stuart Spendlow, illustrated by Amy Bradley.
Told with beautiful puppetry, catchy songs and accompanied by an original music score, PENGUINPIG is a funny, imaginative and magical experience for families.
"Brilliant story and great illustrations with an important safety message as well - 10/10!!! Every school and family needs a copy!"
BBC's Claude Littner
"PENGUINPIG is a splendid book. A warning to the world and not just les enfants."
Ian Whybrow (Children's Author)
Penguinpig was developed with support from Little Angel Theatre and the eCadets, with public funding from Arts Council England, Magna Vitae and Northumberland County Council.