BET mailing list
Submit your email

BET on Twitter
Loading feed...
Charity number: 1077161
Company number: 3724349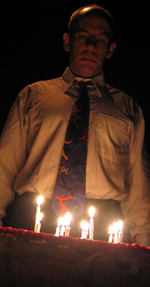 John Riggs is the best spin doctor in town. He runs an established PR firm, working with clients to make them 'beautiful' using any means necessary and at any cost.
In a world where the truth is the least relevant part of the equation, Riggs looks after the image and popularity credentials of a number of public figures, exposing the manipulation, greed and thirst for power in a game where money does the talking.
However, beneath the gloss, cracks start to appear. Unable to spin himself out of a web of deceit, Riggs is confronted with the truth he has so ingeniously hidden from his wife, friends and mother-in-law...
Press
"Contagiously energetic and delightfully absurd"