BET mailing list
Submit your email

BET on Twitter
Loading feed...
Charity number: 1077161
Company number: 3724349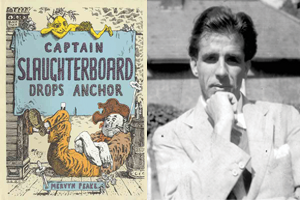 Photos courtesy of the Estate of Mervyn Peake
Mervyn Peake was a writer, artist, illustrator and a former tutor at Camberwell College of Arts. Best known for his Gormenghast trilogy, he also wrote poetry, short stories and plays for adults and children.
Captain Slaughterboard Drops Anchor
First published in 1939, Mervyn Peake's pirate yarn has recently been re-issued, giving a new generation the chance to read about the exploits of Captain Slaughterboard and his crazy crew - Billy Bottle, Jonas Joints, Timothy Twitch, Peter Poop and Charlie Choke.
Mervyn Peake: an illustrated talk
Presented by Sebastian Peake
Inspired by his father's incredible collection of paintings, photographs and letters, Sebastian Peake provides an exclusive insight into one of the most creative minds of the 20th Century.
Part of Camberwell Arts Festival 2008