BET mailing list
Submit your email

BET on Twitter
Loading feed...
Charity number: 1077161
Company number: 3724349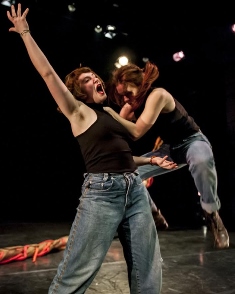 Mad Meg is a collision of traditional folk and contemporary dance theatre. Threading moving bodies, spoken word, live folk music and driven by the wild rhythms of Appalachia, MAZPOD tell the demise of Mad Meg, an unruly woman whose spirit is at odds with the traditional society she lives in.
You are invited to see the relevance of their fairy tale, set somewhere between a smoky bar in North Carolina and a mossy forest at dawn. As the tragedy unfolds, pass between narrators and characters in the tale and bounce from poignancy to bawdiness, uncovering Mad Meg´s story.
MAZPOD was founded in 2014 and Mad Meg is the company´s first work. It has been performed in the UK and Argentina.
Mad Meg by MAZPOD from MAZPOD on Youtube.
Reviews

"An engaging first offering from a company I hope to see more of."

"An intense and intriguing production."

"Mad Meg is a show which is light and comedic, but also sincere and touching."