BET mailing list
Submit your email

BET on Twitter
Loading feed...
Charity number: 1077161
Company number: 3724349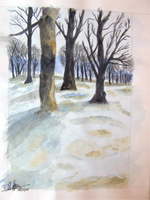 A selection of portraits and landscapes. The landscape scenes are strange and enigmatic: trees and pathways draw the viewer into the distance, leading them - who knows where?
Hofferer's portraits are created from photographic sources. These faces are strong and powerful: more than just 'personalities'.