BET mailing list
Submit your email

BET on Twitter
Loading feed...
Charity number: 1077161
Company number: 3724349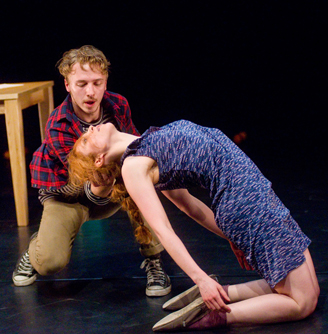 Choreographer Ieva Kuniskis creates works of physical storytelling which offer snapshots into other people's worlds.
Gone To Get Milk
The same walls, the same people, the same incessant landscape make you want to scream for change, yet that same familiarity brings you comfort. And every time you say you're leaving, you are just going to get milk...
Women's Tales
Four female performers use their personal stories to paint honest self-portraits, offering glimpses into their own lives. Drawing on folklore traditions, the women share these intimate tales, creating a delicate and tense communion reminiscent of the scattered soundtrack of haunting folk voices and fingerpicked guitars.
Photo credits: Judita Kuniskyte
Reviews

"Engaged and enchanted"

A delight for the uninitiated as well as for those more knowledgeable