BET mailing list
Submit your email

BET on Twitter
Loading feed...
Charity number: 1077161
Company number: 3724349
For How Much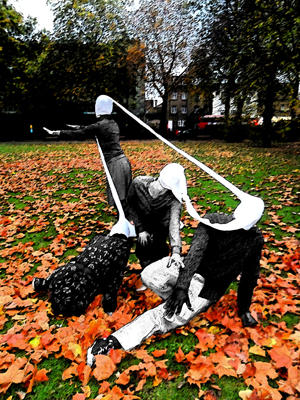 Faceless .... Distorted fingers reaching out to the skies... Spinning coins on the ground... Is this the cost of the goods we buy and consume? Is this the cost we do not have to pay?
Originally commissioned by the International Organisation for Migration U.K. (IOM) as part of their Buy Responsibly campaign, this dance theatre piece takes inspiration from the lives of the people who have worked under forced labour in India, Africa, South America and parts of Europe and from the sculptures by London-based artist May Ayres and her critique of consumerism and capitalism.
Underfoot
Underfoot is an intimate and sideways exploration of that which we share and stand on. Dwelling, shifting and zooming through structures and improvisation.
"The moment one gives up one's verticality, the first thing one discovers is that even the smoothest ground is not flat. The ground is grooved, cracked, cool, painful, hot, smelly, dirty." (Andre Lepecki)
Reviews
Annarita is misspelt and Lina Patterson is another dancer in For How Much (not Underfoot). Underfoot's cast is just Katja Nyqvist