BET mailing list
Submit your email

BET on Twitter
Loading feed...
Charity number: 1077161
Company number: 3724349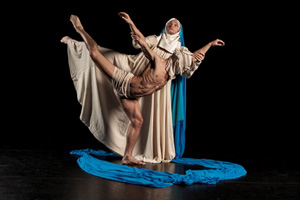 DeNada Dance Theatre present a gender-bending evening of seductive and provocative dance choreographed by Carlos Pons Guerra. Three short narrative works form this kitschy and filmic bill of contemporary dance with a very Spanish flavour- a true feast of meaty dance soaked in a salsa of passion.
From a dingy cabaret in Civil War Barcelona, where a drag artiste murders her fascist lover backstage, passing through a lustful duel of seduction between two machos, and ending with a divine apparition in a kitchen of 1950's Seville, Ham & Passion is an exhilarating, hilarious journey through the history and culture of modern Spain that promises to subvert the senses.
Performed by an international cast of dancers, to a soundtrack of Latin vintage classics and Manuel de Falla's El Amor Brujo, with stunning period costume and set by Ryan Dawson Laight and a perfect mix of dance, jamón and drama, these three explosive period pieces will excite adult audiences of all backgrounds.
Recommended age: 14+ due to partial nudity and suggestive imagery.
Photo: Joe Armitage
Reviews

Extreme passion and florid sexuality run amok in a triple bill of transgressive Spanish dance

Exploring the heady subjects of sex, gender, religion, and politics, but all with a cheeky sense of humor that is impossible to resist.

This is intoxicating stuff. DeNada Dance Theatre's smart meditations on sexual identity and machismo could teach larger ensembles a thing or two.