BET mailing list
Submit your email

BET on Twitter
Loading feed...
Charity number: 1077161
Company number: 3724349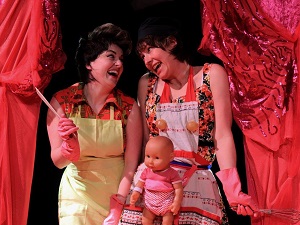 A funny, tragic and ridiculous show about pregnancy, parenting and growing up.
Meet an array of charming and grotesque characters from chefs with birthing recipes to smug mothers, barmy historians and more. Les Femmes Ridicule play with their audience from beginning to end, walking a fine line between comedy and tragedy as they explore many themes of potential parenthood, including miscarriage, infertility and grief. The company's ultimate goal is to have fun with the audiences whilst tackling some of life's paranoia in a light and unsettling way.
"Slapstick explains childbirth", "Madness, Genius, Moving" (Audience feedback)
"I was crying with laughter… so good!" (Audience Feedback)
Hump Day Treat! All full-price tickets are reduced to £8.50 on Wednesday 15th June!
There will be a post-show discussion on Thursday 16th June.
Reviews