BET mailing list
Submit your email

BET on Twitter
Loading feed...
Charity number: 1077161
Company number: 3724349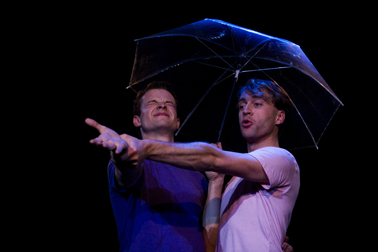 "We are about to embark on 'Us'. From here on out, all we do, see, hear, taste, smell, and touch will be Us. Different parts of and points in Us. This will not be a direct flight."
Two men share their timeless love story via moments alternately charming, childish and churlish. Join A & B in a funny, quirky piece of physical theatre full of fantastical adventures.
Told using only playful storytelling and a suitcase of props...
"Our final destination is Final Destination Unknown. Estimated arrival time: we'll know when we get there".
Tweet Tuesday on the 26th of June: The one show when you won't have to put away your mobile! Join us for a special performance when you'll have the freedom to live-tweet your reactions to the play as it happens. This is a unique opportunity to engage with the performance and your fellow audience members.
You can keep you up to date with all the goings on direct from the rehearsal room on Justen's blog:
The Fantastical Adventures of [Not] Being With You Blog
Reviews