BET mailing list
Submit your email

BET on Twitter
Loading feed...
Charity number: 1077161
Company number: 3724349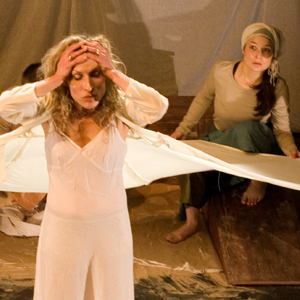 A dynamic drama with strong, contemporary issues regarding faith, family and taboo, explored using wonderfully rich characters involved in a complex human story.
Queen Phaedra lies sick with incestuous love for her stepson Hippolytus. Told of her passion by her faithful nurse, Hippolytus rejects her. Pride, shame, lust, revenge, honour and love interweave culminating in a progressively sharp web of lies and unspoken truths that result only in death and tragedy.
Utilising the rhythm, images and language of the text to layer the play with rich movement, music and song, this new version draws out the elements of ritual and ceremony that are inherent in Euripides's text and structure.
Press

'This fast paced, imaginative piece of ensemble theatre leaves little to be desired and should not be missed by anyone.' www.extraextra.org