BET mailing list
Submit your email

BET on Twitter
Loading feed...
Charity number: 1077161
Company number: 3724349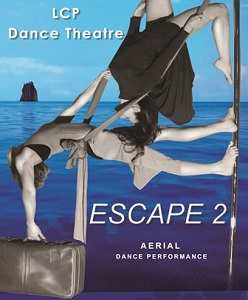 LCP Dance Theatre invites their audiences on a journey of awareness of what's going on in the world.
Escape 2 follows on from 2016's Escape, recreating and re-telling the emotional journey of a refugee using innovative aerial dance and multimedia, against a stirring soundscape by Stefano Guzzetti. Fusing pole and silks performance with dance theatre, Escape 2 explores the impact of a new environment on a refugee, who must face social, political and psychological challenges in order to integrate with a new society.
Award winning LCP Dance Theatre draws awareness to human rights violations through dance and has been nominated twice at the Edinburgh Fringe for the Amnesty International Freedom of Expression Award.`
Praise for LCP Dance Theatre's previous work:
"Modern, moving, muscular & magnificent" The Mumble Dance (Escape)
"A compelling dance performance dealing with highly relevant issues" UK Theatre Network (Escape)
"LCP Dance Theatre offered something extraordinary" ★★★★ Female Art (I Am)
LCP Dance Theatre are raising money to bring Escape2 to Edinburgh this year. You can support them here.
Reviews

★★★★ "A powerful and demanding story about the social, political and psychological challenges that refugees face in order to begin a new life on new shores."