BET mailing list
Submit your email

BET on Twitter
Loading feed...
Charity number: 1077161
Company number: 3724349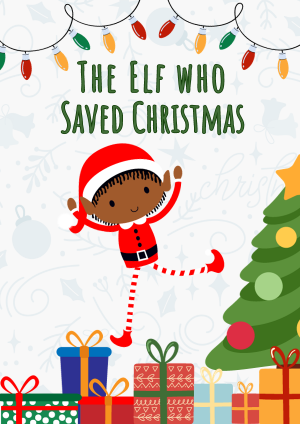 Clause 302 of your contract as a Workshop Elf: 'Should Santa Claus be ill at Christmas time, the Elf is to deliver presents to children all around the world in his stead'.
There's a problem in the North Pole this Christmas when Santa is too ill to deliver presents. There's only one Elf who can make sure presents are delivered all over the world. It's a busy night travelling from country to country but there's lots to learn along the way. But why is one present always left over? Who is it meant for?
Join us for a whirlwind adventure around the world! Funny, interactive and joyful, The Elf who Saved Christmas is a new show about learning to value yourself.
The Elf who Saved Christmas touches on celebrations across the globe as our Elf rushes to deliver every single present. Supported by Southwark Council's Culture Together Fund, it was inspired by conversations with young people from our Young People's Theatre.
Performance Information
Suitable for ages 3+ and with a running time of approximately one hour, performances on weekends are at 2pm & 4.30pm and can be booked via Ticketsource.
Weekday performances are at 10.45am & 1.30pm from Tuesday 5th December - Friday 8th December and from Tuesday 12th December - Friday 15th. Please enquire about bookings by emailing niamh@blueelephanttheatre.co.uk. Availability for weekdays is currently as follows:
Tuesday 5th: 10.45am (fully booked) & 1.30pm (limited availability)
Wednesday 6th: 10.45 (fully booked) & 1.30pm (fully booked)
Thursday 7th: 10.45am (very limited availability) & 1.30pm (very limited availability)
Friday 8th: 10.45am (fully booked) & 1.30pm (fully booked)
Tuesday 12th: 10.45am (very limited availability) & 1.30pm (fully booked)
Wednesday 13th: 10.45 (very limited availability) & 1.30pm (very limited availability)
Thursday 14th: 10.45am (fully booked) & 1.30pm (fully booked)
Friday 15th: 10.45am (fully booked) & 1.30pm (very limited availability)