BET mailing list
Submit your email

BET on Twitter
Loading feed...
Charity number: 1077161
Company number: 3724349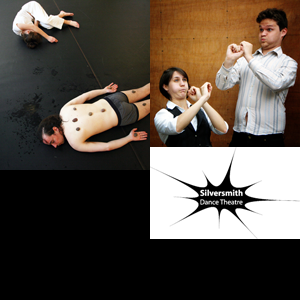 SILVERSMITH DANCE THEATRE produces innovative and accessible dance theatre through artistic collaborations. The company's work focuses upon human themes and narratives of a dark comedic nature, merging different movement styles with the theatrical to create thought-provoking contemporary work.
Dr Samuel's Soothing Serum
Performers: Lianne Dixon, Danna Kolesarova, Chris Mead, Dusty Payne, Ianthe Wright
Choreography: Lorraine Smith & performers
Director: Lorraine Smith
Composer: Nico Bentley
(In) Formalities
Performers: Chris Mead, Dust Payne, Catherine Pinhorn, Fiona Smith
Choreography: Lorraine Smith & performers
Director: Lorraine Smith
Composition/Musical Direction: John Chambers
Fanfares, marches, anthems, speeches and dry coughs…
This piece explores formal events, and the aftermath of when nothing goes to plan!
Relax. Cleanse. Micro-minerals. No more wrinkles. Soothe. Transcend Mortality. Detox. Digestive transit. Refresh. Healing herbal highs. Botox. Bifidus Actiregularis. Believing is feeling. Placebo effect. Revitalise. Empty. Inside.
Press

"For dance audiences it [the Blue Elephant] can be an intense experience - especially if you're used to studying abstract geometry from the heights of the upper circle. These are real, powerful, bodies, right in front of you, complete with flesh, discernible faces and flying beads of sweat."