BET mailing list
Submit your email

BET on Twitter
Loading feed...
Charity number: 1077161
Company number: 3724349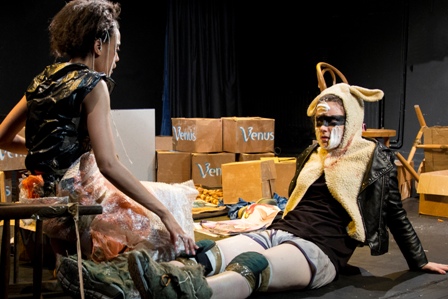 Lone Rangers
One female human discovers she is not alone.
So does the other.
Physical comedy Lone Rangers combines clowning, monsters and a lifetime supply of shaving equipment. How will our heroines survive the first chapter of their perilous adventure?
One for Sorrow
Keith has been awake for six days. He will do just about anything to avoid sleeping. He's been talking to his grandmother, even though she's dead, and now he wants to talk to us.
One for Sorrow is a darkly comic audience with a man confronting his lifelong nightmares.
Reviews

"The short plays, both only 45 minutes long and riveting in aspect, are well-suited to the small, comfortable space of the Blue Elephant... I do not doubt, though, they will soon have to acclimate to much larger stages"