BET mailing list
Submit your email

BET on Twitter
Loading feed...
Charity number: 1077161
Company number: 3724349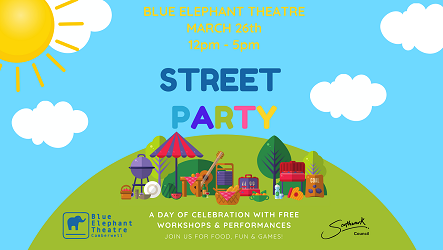 After the success of our first Community Street Party, we are back!
Join us on Saturday March 26th from 12pm - 5pm for a street party on the Wyndham Road side of the Jessie Duffett Hall!
Supported by Southwark Council's Cultural Celebrations Fund, it will be a family focused day with workshops and performances and be open to all.
It's a day of celebration and a chance to get to know Blue Elephant and its activities better!
Schedule (subject to change)
12.15pm: Performance of What If? (for ages 2+)
12.45pm: Performance of The Quest (best for ages 4 - 10))
1.45 – 2.15: Drama workshop
2.30pm: Tell Me a Story by After Hours (community drama group)
3.15pm-3.45pm: Drama Workshop
4:15pm-4:45pm: Live Music
Blue Elephant Theatre will be open for bathroom facilities, just a few minutes walk away.