BET mailing list
Submit your email

BET on Twitter
Loading feed...
Charity number: 1077161
Company number: 3724349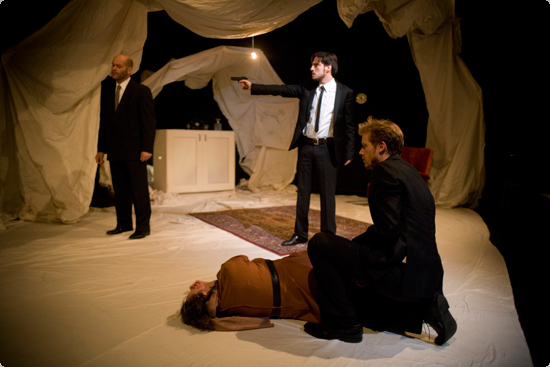 by Mervyn Peake
In one cave, thousands of years of history are played out. A history marked by conformity and the persecution of anyone who dares to speak out. One family struggles to live their day-to-day lives. Then one day a young girl enters the cave and throws their belief system into question.
This unsettling and powerful play by Mervyn Peake - author of Gormenghast - is a dark, inquisitive look at the nature of authority and its effect on the human condition.
There will be a post-show discussion with the writer's son, Sebastian Peake chaired by writer Neil Norman on Tuesday 26 October.
---
Reviews
It has streaks of the angry postwar nihilism of Anouilh and Sartre: the hopeful theme of rejecting fear and social coercion leads only to amoral fragmentation in the last act. But it is extraordinary: a howl, an imperfect and painful philosophical struggle, part of a remarkable artist's testament. Honour to the little theatre." –Libby Purves, The Times
Review by Caroline Jowett from Express.co.uk
Review by Paul Vale from The STAGE
---
Interviews
Interview by BehindTheFringe.com
Londonist Out Loud 2: Aaron Paterson from Londonist on Vimeo.