BET mailing list
Submit your email

BET on Twitter
Loading feed...
Charity number: 1077161
Company number: 3724349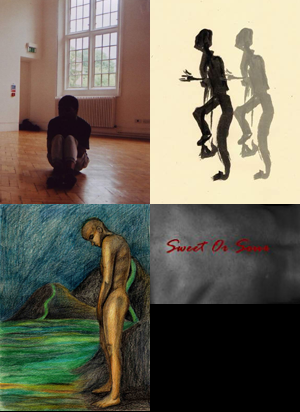 Sweet or Sour is the brainchild of performance maker and writer Tonny A. Specializing in contemporary performance as well as in experimental theatre, the company is passionately committed to delivering challenging collaborative or solo work that crosses over various art forms (from poetry to physical theatre to dance improvisation to multimedia) to revisit obscure or neglected historical eras and analyze the impact of history on individuals' reality, identity and physicality.
Catharsis
"I want the water to wash over me
Wash it all over me
So that I can begin again
Wash away all my sins…
So that I can swim,
So that I can burn
So that I can crash again"
Catharsis depicts the personal quest of a disgraced man for his rebirth through a series of choreographed rituals and visual confessions. Blending live projections and introspective movements with ambiguous written and spoken words, this performance art piece explores the themes of redemption while tackling the sensitive subject of self-esteem.
Conceived, devised and performed by Tonny A.
Photography by Sonalle Maroo
Illustrations by Daishu Ma
Sound Design by Nela Brown
Short Cut(s)
"L'enfer, c'est les autres" Jean-Paul Sartre
Short Cut(s)is a performance installation inspired by the ancient Greek and medieval theories of the Classical Elements. Referring to R. Altman's film, Short Cuts, this experimental piece re-interprets some of D.H Lawrence's existentialist poems through movement, spoken words and multimedia to explore the feelings of isolation, resistance and the constant fear of alienation experienced by five lost souls condemned to wander eternally in the Abyss. A cinematic episode rooted in an intense fusion of reflective soundtrack and improvised series of constrained physical imagery with surreal visual projections.
Performed by Aysegul Asan Murphy, Patric Deony, Jay Nelson, Luke Putres & Bronwen Sharp
Conceived and directed by Tonny A.
Sound Design by Nela Brown
Visual, lighting & costume design by Tonny A., Nicola Maddox & Daishu Ma
Daishu's work has been linked with poetry, short stories, folk tales and performance art. Her illustrations explore the languages of story telling through constructing theatrical imagery that weaves together complex narratives, moods and human emotions. A graduate from Central St Martin's she is currently working with projects in London and China.
Sonalle Maroo travelled alone for almost ten years through Europe, Asia and Latin America observing and participating in the kaleidoscope of cultures and sights she encountered. She has worked alongside numerous successful photographers in New York and Paris, coupled with developing several diverse photographic projects in selected cities worldwide. Since her recent return to London, Sonalle has assisted Magnum photographer, Chris Steele-Perkins, whilst creating many thought-provoking and issue-based assignments that have raised public consciousness
Press

"For dance audiences it [the Blue Elephant] can be an intense experience - especially if you're used to studying abstract geometry from the heights of the upper circle. These are real, powerful, bodies, right in front of you, complete with flesh, discernible faces and flying beads of sweat."

'Shocking, thought provoking and challenging' www.dulwichonview.org.uk