BET mailing list
Submit your email

BET on Twitter
Loading feed...
Charity number: 1077161
Company number: 3724349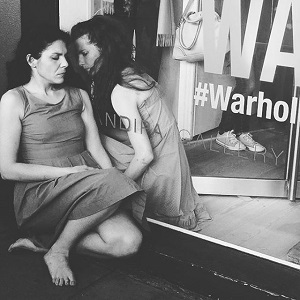 CANDID is an enigmatic 'performance-ritual' about the complexities of female friendships. Two women play a raw and dangerous game of Truth or Dare, setting each other a series of provocative tasks using words, intense physicality and video. Fragmented, episodic, highly sensory and symbolic moments weave a powerful and absurd 'web' made of shared intimacy. In this world anything can be revealed from innocent teasing, to vulnerable confessions, to deeply hurtful insults.
CANDID opens the space for the audience to experience, contemplate and celebrate long-lasting bonds, as a radical alternative to a modern day culture of 'Temp', 'Insta-friends' and 'frenemies' and tendencies of bullying and isolation. It exposes but also tries to subvert the stereotypical female competitiveness. Asking the questions; what does friendship look like in the 21st century? In the current climate of overwhelming online connection, how can true bonds be sustained? And to what extent can mutual candour create connection?
Please be aware that performances contain some nudity.
Reviews

"Candid is an interesting and valid concept which is equal parts sociological workshop on friendship and experimental performance art."

"...offers some interesting ideas on the nature of female friendship, beautiful images as well as slapstick entertainment."