BET mailing list
Submit your email

BET on Twitter
Loading feed...
Charity number: 1077161
Company number: 3724349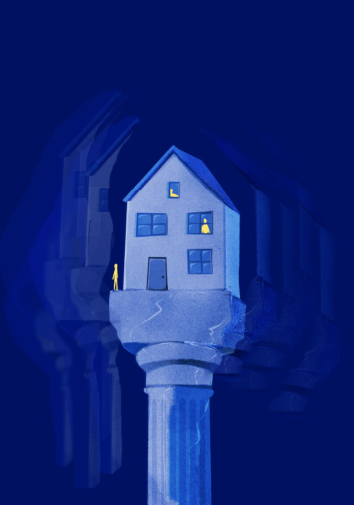 "Have you ever felt so sad you thought you'd never be happy again?"
Charles, Billie and Alex live in the same house but they never see each other. Charles' wife of 50 years has passed away. Billie is reeling from heartbreak. Alex's dad recently took his own life, and now he's facing his own depression.
Gaia Fay Lambert's moving debut play is a series of interweaving monologues. It blends poetry with theatre as its three characters attempt to articulate universal experiences of loneliness, loss and longing. The Blue House looks to provide the audience with hope, healing and solidarity after some of the most turbulent and lonely years in living memory.
With previous work described as "spectacular" and "boundlessly imaginative", Helikon Theatre Company bring their bold and innovative style to the intimate space at the Blue Elephant, in an intense evening of theatre crafted by a collective of exciting new artists.
Past praise for Helikon Theatre Company
"Helikon's modernisation is spectacular"
Mark Aspen Reviews
"This radical portrayal of A Winter's Tale was refreshing, dynamic and most of all well performed."
Theatrebox
"beautifully presented, addictive and compelling to watch, it strips the theatre to a cavernous space and offers it a place to breathe [...] I urge you to go and see this production, I leave the theatre rebounding and reeling with ideas, an inspiring undertaking."
TheatreFullStop
"Boundlessly imaginative, visually poetic, joyfully queer, anarchically playful with the text, somebody give this team space"
Naomi Kuyck-Cohen, Theatre & Performance Designer
CAPTIONED PERFORMANCE: 25 June, 8pm
Captioned by Stagetext