BET mailing list
Submit your email

BET on Twitter
Loading feed...
Charity number: 1077161
Company number: 3724349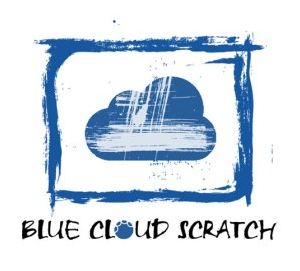 Blue Cloud Scratch is an exciting new dance scratch night, showcasing works in progress from a diverse range of choreographers, and is curated by Blue Elephant Theatre and Cloud Dance Festival. Blue Cloud Scratch aims to encourage and provide emerging dance artists with opportunities to present their works in progress and receive feedback from audiences and peers.
This is the final Blue Cloud Scratch of 2016.
For more about the Blue Cloud Scratch and Cloud Dance Festival, click here.
Under The Light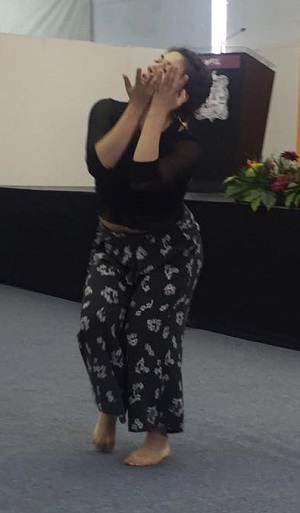 Choreographer: Ana Sosa, Sosa Dance Company
Ana was diagnosed with Bipolar Disorder and experienced a manic episode when she was 19 years old. Inspired by this terribly illuminating experience, Under The Light attempts to convey the fear and excitement of losing one's mind. It penetrates the subconscious of the audience, while remaining highly digestible and relatable.
Ana Sosa was born in Mexico, raised in Canada, and lived in New York City for five years. She began her contemporary dance career as a choreographer. Sosa is a recipient of the Eryc Taylor Dance Grant and showed her work at the Martha Graham Studios in NYC. Most recently, she performed a full-length show at the International Book Fair in Hidalgo, Mexico for a 300+ audience.
When in the Company of a Turtle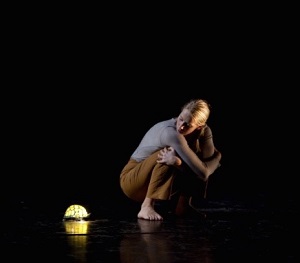 Choreographer: Natalie Sloth Richter, Open Roof
Music: Oscar Salguero

Mentoring: Charles Linehan
When in the Company of a Turtle is a choreographic exploration of what can come from being alone. The piece looks at the need for companionship and asks what it takes to be your own companion on the stage, on the road, in the dark.
Natalie Sloth Richter is a Danish dance artist who graduated from Trinity Laban in 2015. 
She co-founded the collective Open Roof in the autumn of 2015 and has been creating and presenting her own work since. 
Most recently, Open Roof took two new pieces to Denmark to perform and discuss them and also facilitated workshops. Alongside working within her collective, Natalie is currently performing with the company BitterSuite, which will be touring in London and New York later this year.
Equilibrium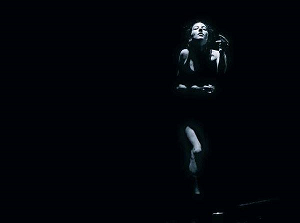 Choreographer: Pip Amer, Incendium Dance Company
Equilibrium explores gender stereotypes within Latin and ballroom dance, stripping away the superficial layers and working from the organic essence of the form and the self. Through earthy and sensual movements, the audience will be transported from the showbiz aesthetics of 'Strictly Come Dancing' to the raw and powerful aesthetic of Latin American movements within a human situation.
Pip Amer is a freelance dance artist who recently graduated from Kingston University in July 2015 with a BA (Hons) in Dance. Amer's Latin dance career started when she was 6 years old with strict training in Latin American and Ballroom dance. She focused heavily on technique and competed internationally, representing England. Amer is now exploring her Latin American and ballroom foundation outside of the competition context, taking her artistic vision into a theatrical environment. She believes in the strength and power within the history, fierceness and stylisation of the movement and the visibility it deserves within the dance sector.
Ancestral Whispers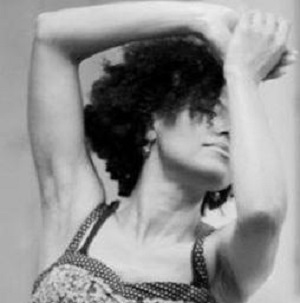 Choreographer: Vanessa Downie, Ajos Dance
Ajos Dance Founding Director: JJ Formento
Music: Night of Visions by Ancestral Voices; Traditional Native American Music
Wrestled from a restless sleep by a dramatic dream, Native American ancestor Kanawha Madonna appears and makes an unreserved request that cannot be refused.
Life will never, ever, be the same again.
This solo explores ways in which the legacy of America's indigenous peoples can impact one's life in the present day, tracing changing attitudes relating to the connection with the spirit of ancestry, at first an unsettling source of fear... now viewed as a precious gift.
Ajos Dance makes work that delves into human issues at the centre of everyday life; themes such as loss, homelessness, spirituality prompt deeper questions about our existence. Ajos presents choreographic platforms to develop new audiences for dance by presenting work in an inclusive, accessible way.
Ancestral Whispers is supported by an artist residency at Clarence Mews.
Vanessa would like to extend thanks to JJ Formento and Caroline Salem, without whom, this exciting choreographic journey would not have happened.