BET mailing list
Submit your email

BET on Twitter
Loading feed...
Charity number: 1077161
Company number: 3724349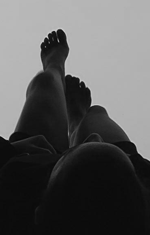 Ink-Prince-Kampantoman
Ink-Prince-Kampantoman Three solo pieces based on story-telling. Surreal-psychological stories are told by a recorded voice and interpreted by an abstract movement language.
Choreography text & performance: Angela Blumberg
Music: Augusto Monk
Essence
The essence of a relationship between two people is that passion evaporates and its imprint on both of them stays. 'Essence' is expressed by using contact improvisation & contemporary dance, and by drawing from dancers' personalities.
Choreography: Anita van de Watering
Dancer: Aedin Walsh & Katherine Cooper
Music: Bob Peachy
I.Standing Woman Dressed in Black II.Seated Female Wearing Dark Dress III.Kneeling Woman in Underwear, Front View (2007)
"Body, Sound, and Image: moments of anticipation, imminence…at times with fear, at others with a sense of incapacity, impossibility…"
A haunting, intuitive and insightful solo, expressive of inner states, reminiscences and drawing from diverse influences of film and sound. The audience is drawn into and invited to witness the journey of the character on stage.
Choreography & Performance: Vanessa Abreu
Music: 'Tenacity' by Matthew Orange
Musicians: Maral Mohammadi (cello), Matthew Orange (bassoon) & Noura Sanatian (violin)
Text: Excerpts of Memorias com Mar by Francisco Fernandez.
Voices by Nuno Pires & Vanessa Abreu
Design: Vanessa Abreu & Andrej Gubanov