BET mailing list
Submit your email

BET on Twitter
Loading feed...
Charity number: 1077161
Company number: 3724349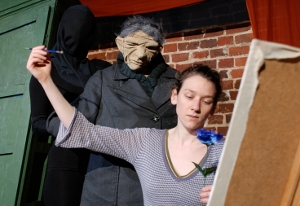 Bluebeard had many wives, in succession, and killed every one. Can Louise turn the tide, or will she too fall victim to Perrault's notorious killer?
The setting: a London artist's studio flat. The time: very early in the morning... Or is it very late at night? Louise is sleeplessly searching for inspiration, until her work is interrupted by the arrival of a surprising visitor. Theatre Témoin uses puppetry, clowning, and original music to take you on a journey through urban isolation and psychosis to unlock the forbidden chamber of the creative mind.
A reworking of Barbe Blue has been given a full production at The Blue Elephant Theatre from Tuesday 28 February - Saturday 17 March under the new title of The Fantasist.