BET mailing list
Submit your email

BET on Twitter
Loading feed...
Charity number: 1077161
Company number: 3724349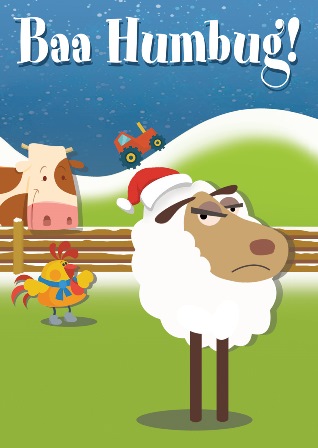 I don't need friends. I don't want friends. I'm perfectly fine all by myself, thank you very much.
Join a rambunctious group of farm animals on Christmas Eve as they celebrate the holiday season. The only problem is Humbug the Sheep won't join in. Humbug thinks it's a waste of time to have friends and play their silly games. But Humbug isn't happy...
With the help of a wise old Farmer, a time-travelling tractor and a little bit of Christmas magic, Humbug the Sheep comes to see how important it is to have friends and to feel happy about new experiences.
Baa Humbug will captivate and entertain children aged 4+and their adults. As they join Humbug's journey of self-discovery, the audience will learn about recognising difficult emotions and how to react positively to them. Blue Elephant Theatre's endearing and funny show encourages children and adults alike to celebrate the power of friendship, whilst singing, playing and having lots of fun.
Praise for previous Blue Elephant Theatre Family Shows:
"A first class production and I can't imagine anybody leaving this show without a big smile plastered across his or her face." A Younger Theatre on Noah's Ark
"My four-year-old son and I loved this show. It was very sweet, yet never mawkish or overly childish, thanks to the writing and also to the dry wit of [the] narrator." ★★★★ Female Arts on The Butterfly Lovers
The Christmas Magic hasn't ended for some of our farm animals. You can catch up with Cow and Chicken, who are still in the festive mood and insist on continuing their infamous dance routines well into the new year! Here they are performing' The Christmas'.
Reviews

'Baa Humbug is a creative, thoughtful and uplifting new piece of writing that will cheer even the grumpiest of people'

**** 'The cast of four is truly fantastic; they play their roles of farm animals and a farmer with ease. They talk to the audience, getting us involved in the play, they muck about and have us dancing and rolling with laughter, all while ensuring the important, somber message rings true.'
'A true delight. Filled with exuberance and interaction, the production most definitely serves as a remarkable piece of children's entertainment.'