BET mailing list
Submit your email

BET on Twitter
Loading feed...
Charity number: 1077161
Company number: 3724349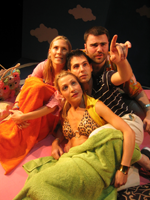 Two couples from Sarajevo are spending their holiday on the Croatian coast. The war in Bosnia is now part of the past, but the bombing of Serbia still lingers. One morning, they hire a pedal boat and venture away from the coast line. Something breaks and the pedal boat floats towards the open sea...
The emptiness ahead transforms them, bringing out selfishness, aggression, fear of death, desire to control, betrayal and the incapability for love... the war is again present but without a uniform, its tentacles reaching out to strangle humanity.