BET mailing list
Submit your email

BET on Twitter
Loading feed...
Charity number: 1077161
Company number: 3724349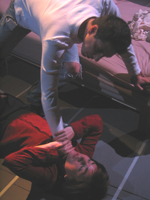 Vera lives in an apartment in post-war Belgrade. She is bullied by Nenad, who claims the missing owner, Jovan, is presumed dead and the apartment is his by right as it had been snatched from his grandfather by the 'communists' in the first place. Then a man returns home. He is the keeper of a terrible secret.
Apart from a dead man's coat, everything else seems unreal, like a dream, like a nightmare. After the war, the abyss, the void.
Press

"A poignant reminder of how the effects of war ripple on long after the cessation of hostilities" The Stage