BET mailing list
Submit your email

BET on Twitter
Loading feed...
Charity number: 1077161
Company number: 3724349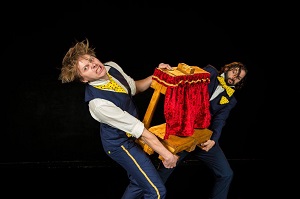 Professional Optimists Harley & Pedro bring you The Actualisation Show.
We'll forget you your troubles and believe in your dreams! Offered now at bargain prices - special rates negotiable!
Our practical demonstration begins at 8pm sharp. Meaning of life absolutely guaranteed or your money back. We're optimistic that you won't be disappointed!
Ephemeral Ensemble is an international physical theatre company. Combining the skilled physicality of the performers, playful stage craft and vibrant music, Ephemeral Ensemble strives to create original, sincere and ambitious work that is inspired by human stories. The Actualisation Show is their first fully realised production, created following interviews with those affected by suicide.
Reviews

★★★★★ "Unmissable!... The highs were atmospheric, the lows lay heavy in the pit of your stomach."