BET mailing list
Submit your email

BET on Twitter
Loading feed...
Charity number: 1077161
Company number: 3724349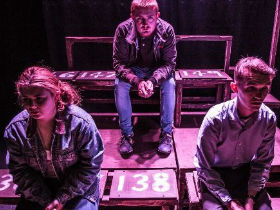 "Nobody dies at football matches in fires. It doesn't happen"
At 3.40pm on May 11th 1985, a small fire broke out in the main stand at Valley Parade football ground during the final match of the season. Within four minutes the wooden structure was ablaze. Fifty-four Bradford City supporters and two Lincoln City supporters lost their lives.
This unique theatrical experience provides a truthful retelling of stories of those involved in the Bradford City Fire. Adapted solely from real-life testimonies and interviews with witnesses, this piece of documentary theatre reveals solidarity, strength and community in the face of overwhelming tragedy.