BET mailing list
Submit your email

BET on Twitter
Loading feed...
Charity number: 1077161
Company number: 3724349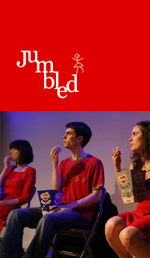 Jumbled look to harness the power of autobiographical material and direct address, and explore placing this in the context of richer visual and theatrical worlds. Through ongoing collaboration with sound-maker Nick Gill, Jumbled closely links live sound with action, to create a multi-layered experience.
We don't want to die but we know people who have. We'd fight for you, we'd lie for you, you know it's true, everything we do we do it for you. Before your very eyes, Jumbled will die not once, not twice, but 22 times. Watch us as we meet our ends simply, quietly, loudly, gloriously, haltingly, beautifully.
Listen as we tell you about the scenes we wished we had seen, and play you the music we wished we had heard. Sob as we breathe our last breath, scream as we are mercilessly butchered, gasp as we escape unscathed only to be gunned down at the last minute.