BET mailing list
Submit your email

BET on Twitter
Loading feed...
Charity number: 1077161
Company number: 3724349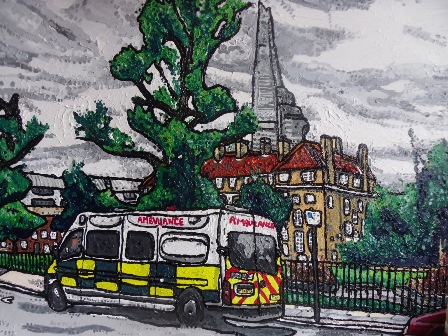 This is an exhibition of local sights and sounds, dominated by South East London but like all art, it is for everyone and is everywhere. The supposedly ordinary aspects of life can at times feel extraordinary and need to be recorded. Artist Stephen Hennessy tries to depict this in urban scenes through the mediums of oil on canvas and ballpoint ink drawings, with an impasto, squiggly style he has developed over the years. For Stephen, there's great art on his doorstep in the shape of interesting architecture, bustling high streets and spit and sawdust type pubs. They all lend their unique charm to the South East of London which he tries to capture.
There is a private viewing for the exhibition on 19th June at 6:00pm.
The exhibition can be seen before and after dates where there is a show, typically Tuesday to Saturday, but please check in advance. Appointments to see the exhibition during the day, Monday to Friday, must be made prior to visiting as we cannot guarantee access to the space on a walk in basis.