BET mailing list
Submit your email

BET on Twitter
Loading feed...
Charity number: 1077161
Company number: 3724349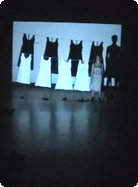 Hannah Bruce: Rising Passing
Coy-Motion (Rebecca Convoy): Shhhhh!
Sarah Dowling: Where Were We?
Josephine Dyer: Viva la Vida
Levantes Dance Theatre (Elena Edipidi) (Winner of the Oxford Samuel Beckett Theatre Trust Award 2009): I was Engaged to Diego Maradona
Amy Voris: Overlap. Music: James Buchanan. Designer: Susannah Henry.