BET mailing list
Submit your email

BET on Twitter
Loading feed...
Charity number: 1077161
Company number: 3724349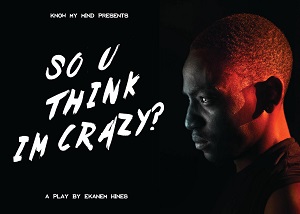 "Who would have thought I would end up like this?"
This hard-hitting emotive production explores the issues surrounding the mental health system in Britain today told through the eyes of a young black man.
Using dance, poetry and music this multi-sensory experience will take you from the streets of London to the secure wing of a psychiatric hospital.
Know My Mind (KMM) is a community theatre group in Croydon, London shining a spotlight on mental health issues from the perspective of service users and carers. So U Think I'm CraZy? is written and directed by KMM co-founder Ekanem Hines, a retired Social Worker with over 30 years experience specialising in mental health.
So U Think I'm CraZy? has sold out previous performances and been endorsed by the Mayor of Croydon and professionals from the Royal College of Psychiatry.
Age Guidance: 16+