BET mailing list
Submit your email

BET on Twitter
Loading feed...
Charity number: 1077161
Company number: 3724349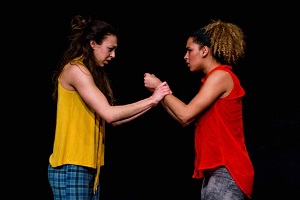 SIGNS is a 30-minute dance piece, fusing contemporary dance with British Sign Language. Performed by two female dancers, this exciting and intricate duet takes inspiration from Colin Thompson's poem If I told you I was deaf would you turn away.
Accompanied by an originally composed music score, it is a highly physical performance that explores the importance of body language in British Sign Language, and the barriers of a Deaf person trying to communicate in a hearing world.
SIGNS is presented as a work-in-progress performance and will be followed by a post-show discussion where we welcome the audience's feedback.
If you wish to avoid the online booking fee but are unable to call the box office, please email your booking request to info@blueelephanttheatre.co.uk and we will get back to you as soon as possible.
On Friday, 14 October, 10:30 am, there will be an accessible beginner's dance workshop with Monica Nicolaides, the Artistic Director of MonixArts and Choreographer of SIGNS.
Places are free but restricted to Southwark residents only. Register here.
Reviews

"SIGNS has the potential to be a fierce piece of physical theatre..."