BET mailing list
Submit your email

BET on Twitter
Loading feed...
Charity number: 1077161
Company number: 3724349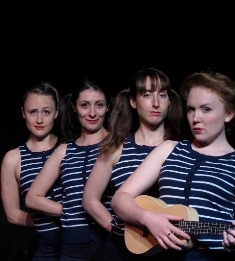 Follow the tale of Alice and Italian ice cream seller Jim, who fall in love strolling along the beach in a 1950's whirlwind romance. However, all is not as sweet as it seems when their lives are turned upside down by the arrival of their son Sam…a very unusual boy!
Based on the title story of The Melancholy Death of Oyster Boy by Tim Burton, this bittersweet tale reminds us of the fragility of life and introduces us to a host of larger-than-life characters who are sure to entertain and delight. Oyster Boy is a multi-award-winning, international production mixing physical storytelling, clown, live singing, dance and puppetry.
Haste is an international, multi-disciplinary theatre ensemble based in London. The company seek to create visually impressive theatre, which provokes question, thought, laughter and enjoyment in a diverse audience through simple means. The company has produced and toured work in the U.K, U.S.A and Italy.
Reviews

"Oyster Boy is a dynamic and enjoyable piece of fringe theatre."
"...Haste Theatre's earnest production brims with boundless creative energy and a clear vision..."

"...the play and its source material thrive on not fitting into conventional categories."