BET mailing list
Submit your email

BET on Twitter
Loading feed...
Charity number: 1077161
Company number: 3724349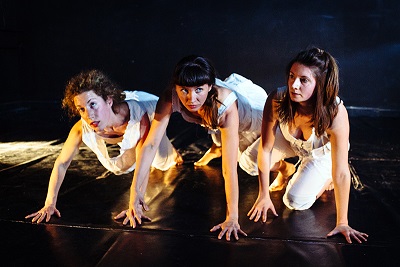 Sonámbulas
Sonámbulas is a collaborative exploration of the world of dreams. Three characters delve into the subconscious through dynamic, frenzied movement sequences; their stories and emotions becoming tangled in the sounds of live accordion. Sonámbulas take a trip into our subconscious where unrelated images and absurd stories exist.
Little Red Riding Hood
"Little red riding hood was my first love. I felt that if I could have married her, I should have known perfect bliss" Charles Dickens
NonFiction Dance present Little Red Riding Hood, a new piece inspired by the Grimm brothers' famous fairy tale.
We've all heard the fairy tale. The little girl in a red cape, her encounter with the evil wolf in a dark woods...The story has been narrated through centuries, capturing imaginations and inspiring fear in children and adults alike. But who was the girl hiding underneath the red cape? And how did the story really end?
Little Red Riding Hood explores the mysteries of this beloved character, re-examining her relationship with the wolf and re-imagining her fate.
You will never think of Little Red Riding Hood the same way again.
Reviews

"It's a fantastic piece, executed with both passion and precision"- On Little Red Riding Hood
Press
"The piece had a Mitteleuropa/fairytale/early psychoanalytic quality; and something robust and straightforward, in its engagement with its subject matter, that was really disarming."
Agony Art Platform on Sonámbulas' work in progress showing at Chisenhale Dance Space, June 2014.