BET mailing list
Submit your email

BET on Twitter
Loading feed...
Charity number: 1077161
Company number: 3724349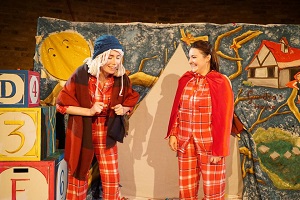 All previously advertised performances are sold out but there is a NEW performance on Saturday 9th December at 12.30 and there are still tickets left for this performance!
This much-loved story is reinvented as a playful pantomime. Moon On A Stick combine enchanting puppetry & storytelling with all the traditional pantomime elements in a fun, imaginative show.
Featuring live music, dance and audience interaction, get really involved with the story and help Little Red through the forest. Packed full of silliness, a sassy heroine and sparkles, this is the perfect introduction to panto for children aged 3+ and their families.
Performances on Saturday 9th December are relaxed performances, especially suitable for young children or those with additional needs.
Performance Times:
Thursday 7th December: 11:15, 13:45 & 16:30
Friday 8th December: 10:00, 11:15 & 13:45
Saturday 9th December: 14:30 & 17:00 - NEW performance at 12.30